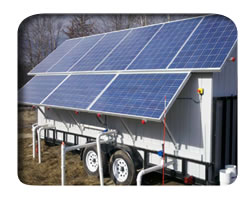 Solar powered 1,4 dioxane bioremediation trailer
Overview
Innovative Engineering Solutions Inc. is a national leader in design and implementation of innovative remediation technologies. IESI personnel are service-oriented professionals who provide responsive and expert service, focusing on selecting the correct approach to clients' remediation needs. IESI's emphasis on efficient system design provides clients with low capital and operating costs while meeting their remediation timelines. Simply stated- we are extremely good at what we do - we excel in technically complicated remediation projects. The combination of our technical, design, laboratory, and most importantly practical common sense and experience, makes us the best remediation firm in the United States.
IESI and its employees have been involved in the remediation of thousands of hydrocarbon impacted sites across the U.S. Our registered professional engineers provide us with license coverage across most of the country. Our engineers have deep expertise working with MCP sites in Massachusetts, as well as experience with RCRA, CERCLA and TSCA sites in over 35 states. IESI pioneered the field of in-situ bioremediation, installing one of the first full-scale enhanced anaerobic dechlorination (EAD) systems in the U.S., in 1997. Since then, we have consistently been recognized as one of the leading firms for bioremediation and continuously work to improve and innovate on the most sensible remediation solutions for our clients.
IESI offers a wide variety of remediation services to its clients, which can generally be grouped into four categories: Bioremediation, Hydrocarbon Cleanup, Regulatory Compliance Audits, and Manufactured Gas Plant Cleanup. Please explore the rest of this site or contact one of our principals for further information.